Goldsworth Park Lake In Woking | A Great Place To Visit
Everything You Need To Know About Goldsworth Park Lake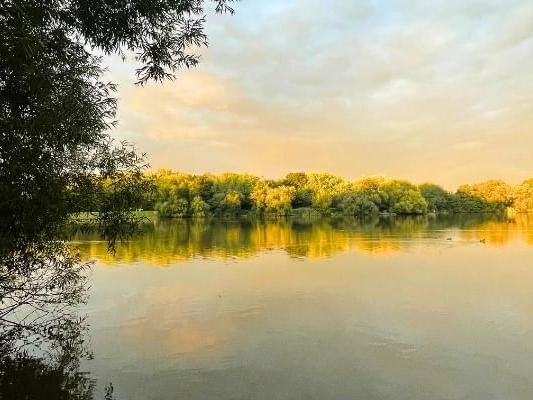 If you're exploring the vibrant town of Woking, Goldsworth Park Lake is worth the visit!
Here at Gorse Hill we're just a few minutes drive from this nature hotspot, which is popular with our hotel guests,
Keep reading to find out more about this picturesque lake including its history, best things to do there and more!
History Of Goldsworth Park Lake
Nestled within the Goldsworth Park housing estate in Surrey the stunning lake spans around 60,000 square meters.
Initially built in the1970s as a drainage system to help prevent flooding this lake has become home to an abundance of fish and wildlife.
Flocks of herons, geese, ducks and swans share this area with fish species like perch and pike.
In recent years the lake has undergone many improvements enhancing its beauty and accessibility.
There's reed beds, a wildlife area and even a floating eco island which all contribute to the lake's charm.
Including 36 platforms dotting the shores, one of which is specially designed and ramped for at least two disabled persons.
What's truly inspiring is that much of this transformation has been achieved by local anglers and residents, supported by the Goldsworth Park Community Association.
Their voluntary efforts have truly made this place an even more beautiful and welcoming spot for everyone to enjoy.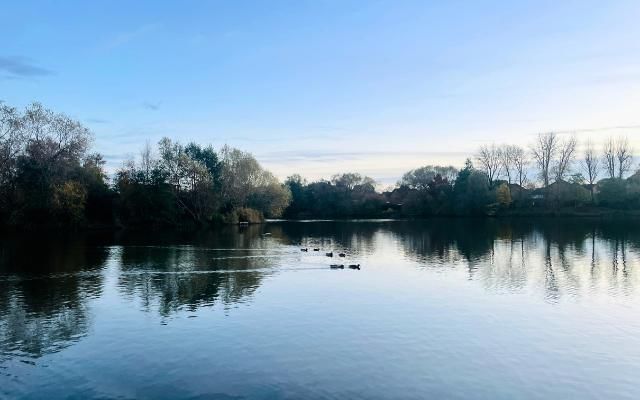 Fun Things To Do At Goldsworth Park Lake
From miniature boating opportunities to family fun at the park, we've complied a list of the best things to do when visiting.
Scenic Strolls
Enjoy tranquil walks that wind around Goldsworth Park Lake.
The beautiful surroundings provide a peaceful atmosphere, inviting you to take a leisurely walk and immerse yourself in the wonders of nature.
As you wander keep an eye out for a variety of bird species that call this area home.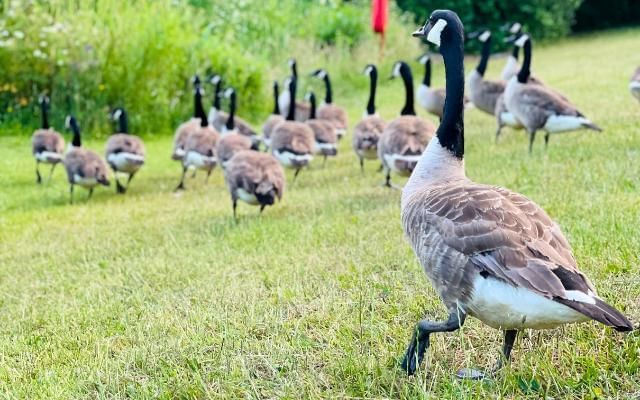 Fishing Opportunities
Goldsworth Park Lake is an excellent fishing spot for both seasoned anglers and beginners with day and season permits readily available to purchase.
The lake boasts an impressive variety of fish species, with 13 known types including Carp, Pike, Bream, Tench, Roach, and Perch.
These fish tend to grow to substantial sizes compared to their respective species, with the lake harbouring some remarkable specimens lurking in its depths.
Both Tench and Bream have been recorded at weights exceeding 10 pounds, while some Pike have been well over 20.
If you fancy a cast you can learn more about the fishing opportunities available on the Goldsworth Park Angling Club website.
Please take a moment to read the club rules too.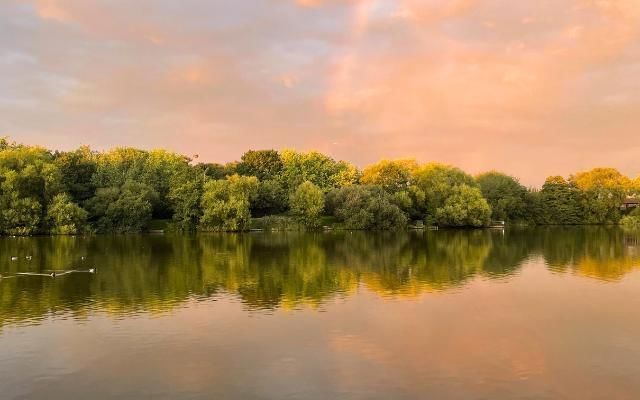 Picnicking Adventures Await
Why not plan a picnic at Goldsworth Park Lake?
Find a cosy spot along the shores, sit on a bench or find shelter beneath the canopy of trees.
Whether you pack your own delectable treats or opt for a visit to the nearby Waitrose or Martins shops to pick up some delightful snacks, this idyllic place is perfect for a spot of lunch.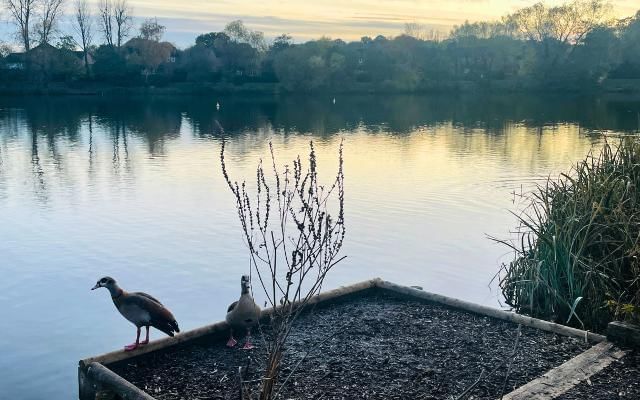 Delight in Dining Out
At Goldsworth Park Lake you'll find the new Quackers Café serving up homemade treats and light bites, perfect for a relaxing snack with a view.
If you're after a hot brew, Costa Coffee is just a short stroll away.
And if you're looking for a more substantial meal or afternoon tea make a dining reservation at Gorse Hill which is only a 10-minute drive away.
We've always ready to serve up a fantastic meal to complement your lakeside adventure.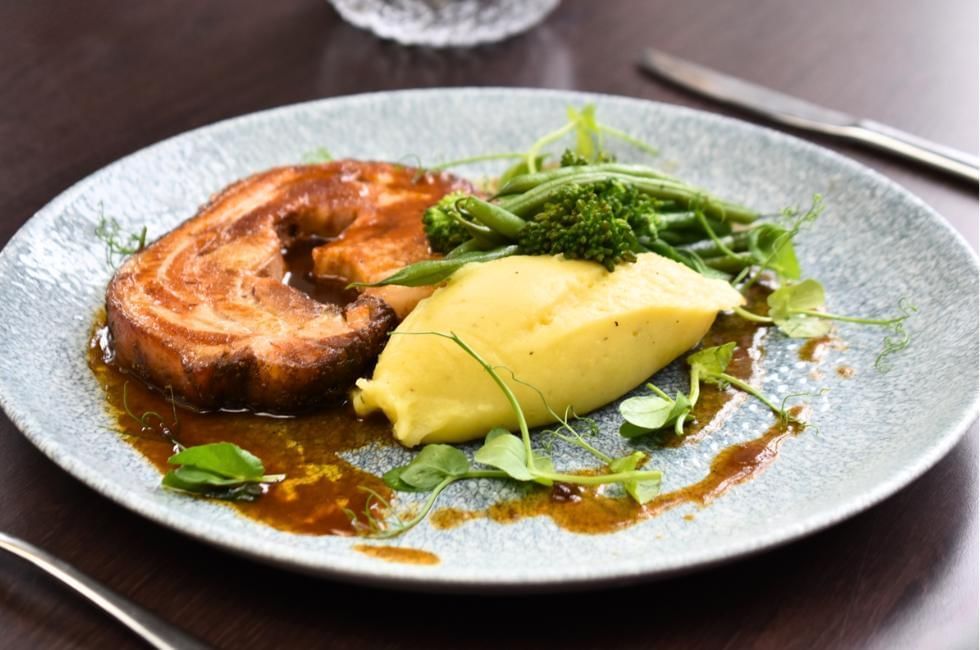 Get Active
Work up a sweat at the outdoor gym by the lake, which is perfect for getting your exercise fix.
And if you're up for a little friendly competition the nearby basketball court is ready for some hoop action.
You can also bring your bike and pedal your way around the brand-new cycle track that opened in 2022.
Plus, there's a huge open field nearby ideal for games or simply relaxing.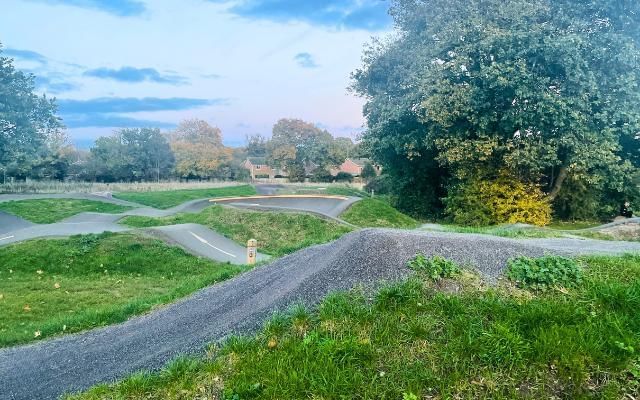 Family Fun at the Park
Goldsworth Park Lake is a treasure trove of family fun!
Explore the play facilities packed with everything you need from swings to awesome climbing frames, even including climbing boulders.
It's the ideal spot for a fantastic day out that'll put smiles on everyone's faces!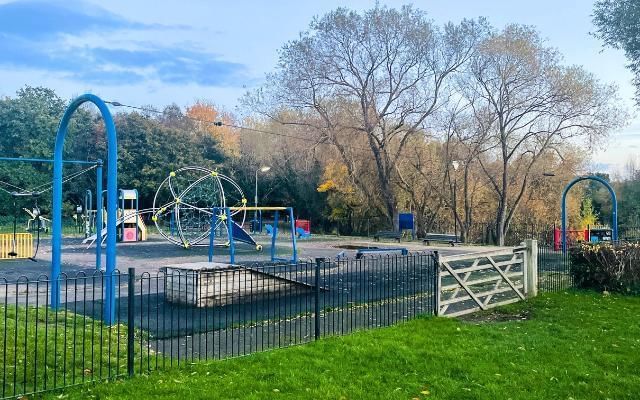 Events At Goldsworth Park Lake
We're proud supporters of the local charity Woking & Sam Bear Hospice here at Gorse Hill.
They usually host an event called the Dragon Boat Race which takes place at Goldsworth Park Lake each year.
It's a fun day out filled with exciting stalls and of course the thrill of watching the boat racing competition.
Where Is Goldsworth Park Lake in Surrey?
Location: Goldsworth Park Lake sits on Wishbone Way, just a short stroll from Basingstoke Canal and a 10-minute drive from Woking town centre itself.
Address: Goldsworth Park Lake, Wishbone Way, Woking, Surrey, GU21 3RT
By Car: If you're travelling by car plug the Goldsworth Park postcode into your navigation system (GU21 3RT).
Parking: Goldsworth Park Lake can be accessed from various ways. For convenient access and nearby free parking, aim towards Goldwater Lodge.
Goldsworth Park Lake Map
------------------------------------------------------------------------------------
We hope you enjoyed our article on Goldsworth Park Lake in Woking.
Whether you seek a scenic stroll, a delightful family day out, or a perfect fishing spot, this wonderful place offers something for everyone!
Head over to our Explore page to see more beauty spots and attractions local to us here at Gorse Hill in Surrey.
------------------------------------------------------------------------------------
Frequently Asked Questions Related To: Goldsworth Park Lake In Woking
Can you swim in Goldsworth Park Lake?
You cannot swim in Goldsworthy Park Lake. The Community Safety Team of Woking Borough Council kindly reminds everyone to avoid swimming or diving in these areas for safety reasons.
How far around is Goldsworth Park Lake?
The lake is approximately 14 acres in size and reaches depths of up to 13 feet. When walking around it providing continuous views.
What fish are in Goldsworth Park?
The lake is home to 13 known species of fish which include carp, pike and roach, boasting some of the best fishing opportunities in the area.
What is the postcode for Goldsworth Park Lake?
The postcode for Goldsworth Park Lake is GU21 3RT which will take you to the main car park by the lake.
When was Goldsworth Park built?
As Woking became a more popular place to live the development of the Goldsworth Park housing estate began and was built during the 1970s and 1980s. It has a big choice of property and of course features a picturesque lake. The lake was created to help prevent flooding, but is now a great place to visit in the area with lots to do and see.