Chessington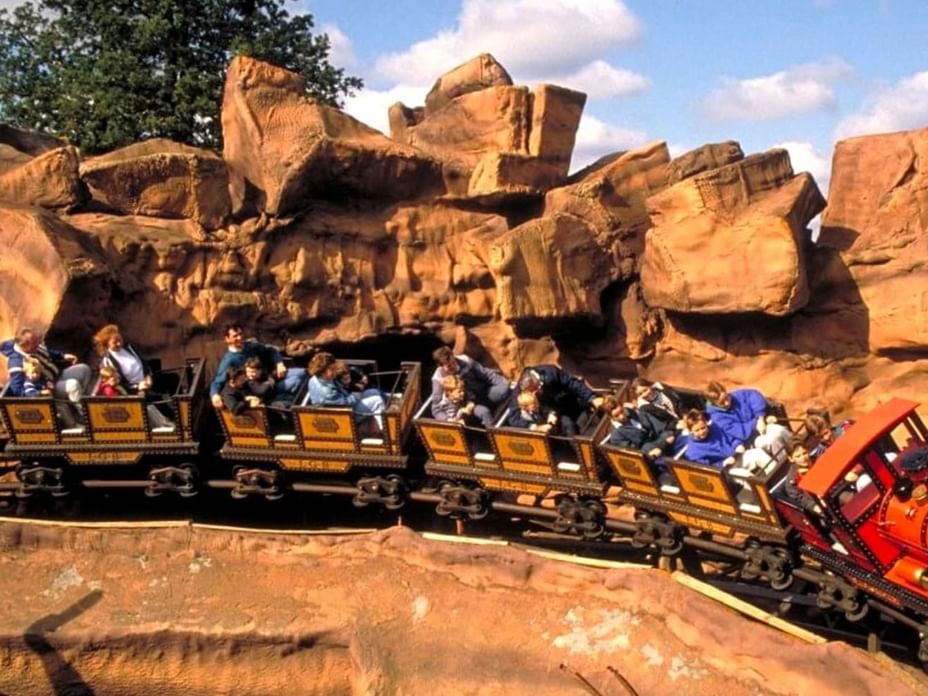 Chessington World Of Adventures Resort (also known as Chessington) is the ultimate destination for thrill-seekers and families alike.

Visit Chessington World of Adventures while staying at Gorse Hill

Chessington provides a wide selection of more than 40 thrilling rides and attractions, along with live events, a zoo, and a Sea Life Aquarium.

This makes it one of the most remarkable and diverse theme parks in the United Kingdom.
THE HISTORY OF CHESSINGTON WORLD OF ADVENTURES
Chessington has a fascinating history that goes all the way back to 1348 when the original mansion called Chessington Lodge was built as a country house.

However, during the Civil War it was turned into a stronghold for the Cavaliers and was later burned down by Cromwell's forces.

After being rebuilt it became known as 'Burnt Stub' and has kept that name ever since.

Over the years Chessington went through many changes until 1987, when it officially opened as Chessington World of Adventures, a theme park.

They introduced exciting rides like Dragon Falls, Safari Skyway, Toadies Crazy Cars, and Runaway Train.

Since then Chessington has constantly grown and improved, adding new events, themed areas and attractions.

Notable additions include The Gruffalo River Ride Adventure in 2017 and Land of the Tiger in 2018.

Chessington has also been committed to conservation efforts, such as successfully breeding various animal species and protecting endangered animals.
WHERE IS CHESSINGTON WORLD OF ADVENTURES IN SURREY? HOW DO I GET THERE?
Location: Chessington World Of Adventures is located on Leatherhead Road in Surrey. The area is known for its tranquil surroundings, offering many opportunities to appreciate the outdoors. A great place to explore near Chessington is Castle Hill Nature Reserve.

Address: Chessington World Of Adventures, Chessington, KT9 2NE

By Car: Chessington is conveniently reachable by car and can be found on the A243, two miles away from the A3 and M25 (junction 9 or 10).

There are clear signs guiding visitors to the resort along the way.

If you're travelling by car plug the Chessington World Of Adventures postcode into your navigation (KT9 2NE).

Parking: The car park at Chessington operates on a paid for facility.

There is a small daily fee of £6* per car for visitors, including those requiring disabled parking.

It's advisable to pre-book your parking online to save time on the day. Alternatively, you can purchase a parking ticket at one of our Admissions kiosks or use your debit or credit card upon exit.

Please note that Standard, Discovery, and Silver Merlin Pass holders are not entitled to free parking and must purchase a car parking ticket in advance.

On the other hand Premium, Gold, and Platinum Merlin Pass holders enjoy complimentary standard car parking. To exit the car park, they need to scan a valid Premium, Gold, or Platinum Merlin Pass at the designated barriers.
RIDES AT CHESSINGTON WORLD OF ADVENTURES
Chessington boasts a collection of more than 40 rides and attractions that cater to a variety of interests and preferences.

From exhilarating roller coasters to delightful swings there is an abundance of options to choose from.
ZOO AND AQUARIUM AT CHESSINGTON WORLD OF ADVENTURES
In addition to the rides and attractions, Chessington also has a zoo and a Sea Life aquarium.

At Chessington Zoo visitors can get up close with more than 1,000 amazing animals such as lions, tigers, gorillas, monkeys, penguins, and various underwater creatures.
CHESSINGTON WORLD OF ADVENTURES EVENTS
Chessington provides a wide range of enjoyable themed events all year round.

From thrilling Halloween nights to exciting summer celebrations, there's always something happening.

You can visit their website's events page to explore the upcoming events and make your bookings.
CHESSINGTON WORLD OF ADVENTURES MAP
Check out all the relevant information on Chessington including rides, admission fees & much more HERE.
CHESSINGTON WORLD OF ADVENTURES FAQ'S
Q: Do I pay for a 2 year old at Chessington?
A: Children under 3 can enter Chessington World Of Adventures for free. It's important to note that everyone, including Passholders, children under 3, and carers (with proper documentation), must pre-book a ticket online to ensure entry.

Q: Can a 14 year old go to Chessington alone?
A: For admission to Chessington World of Adventures Resort, individuals aged 12 years and older are considered adults. They do not allow children under 12 years old to enter the park without being accompanied by an adult who is 18 years old or older.

Q: How tall do you have to be to go on every ride at Chessington?
A: Every ride at the park has its own minimum height requirement, which varies from 0.9m to 1.4m. Additionally, it's important to note that children under 0.9m can experience several attractions as long as they are accompanied by an adult who is at least 16 years old.

Q: Is Chessington suitable for adults?
A: The theme park consists of 10 themed lands and offers more than 40 rides and attractions that are suitable for people of all ages!

Q: Does Chessington have zoo?
A: Chessington theme park offers a variety of attractions, including rides, a zoo, and an aquarium.
Visit Chessington World of Adventures while staying at Gorse Hill
Leatherhead Road KT9 2NE England