Ascot Racecourse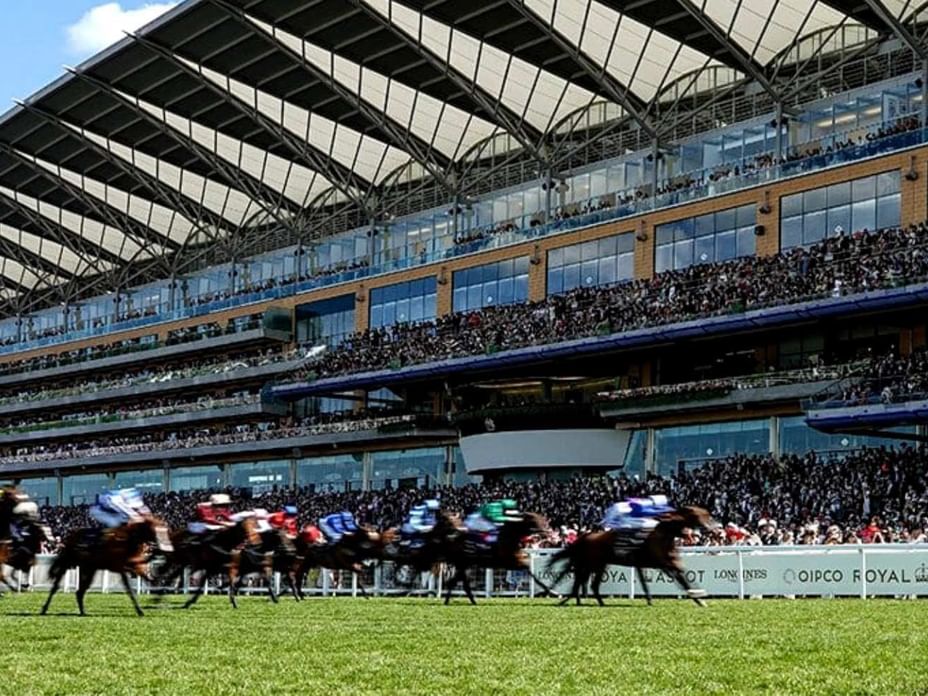 Ascot Racecourse has built a reputation for offering exhilarating horse racing events. They take pride in providing a unique experience that captivates fans, families, and all attendees of their race days.

Visit Ascot Racecourse while staying at Gorse Hill

In addition to their popular race days, Ascot Racecourse hosts a diverse range of events throughout the year, such as outdoor movie nights and festivals.

With a wide array of offerings, there is something enjoyable for everyone to experience and appreciate!
THE HISTORY OF ASCOT RACECOURSE
In 1711, Queen Anne discovered the perfect location for a racecourse at East Cote, realising its potential for fast horse racing.

The first race, called Her Majesty's Plate, was held on August 11th with a prize of 100 guineas. This marked the founding of the Royal racecourse.

With a history spanning over 300 years, Ascot Racecourse has become a significant part of British tradition.

The centrepiece event, Royal Ascot, holds a special place in the country's social calendar.

From the creation of the Royal Enclosure to remarkable victories on the track, Ascot has witnessed countless memorable moments.

It has become a cherished British landmark, embodying both history and tradition.

Though the racecourse may have evolved over time, Royal Ascot remains a quintessentially traditional British event.
WHERE IS ASCOT RACECOURSE IN BERKSHIRE? HOW DO I GET THERE?
Location: Ascot Racecourse is located on Ascot High Street.

Address: Royal Racecourse, High St, Ascot SL5 7JX

By Car: If you're travelling by car plug the Ascot Racecourse postcode into your navigation (SL5 7JX).

Parking: At Ascot Racecourse, there are over 8,000 car parking spaces for visitors.

On Ascot Raceday's, parking is free of charge and can only be accessed on the day at the racecourse.

If you have a Blue Badge you need to display it when entering the car park, and you will be directed to a designated area.

It's important to note that there is no option for pre-booking public car parks.
RACEDAYS AND EVENTS AT ASCOT RACECOURSE
Ascot Racecourse organises a range of thrilling events all year round, including racing weekends and outdoor movie nights.

One of their most beloved annual events is Royal Ascot, a prestigious event attended by both the public and royalty.

As one of Britain's renowned racecourses, Ascot dedicates a special week in June for Royal Ascot, attracting around 300,000 visitors over five days.

The event is graced by the presence of the King and Queen who have had a lifelong passion for horses.

It has become the country's most celebrated race meeting, where attendees wear their finest attire and hats.
ASCOT RACECOURSE MAP
Check out all the relevant information on Ascot Racecourse including parking, events & much more HERE.
ASCOT RACECOURSE FAQ'S
Q: Where is Ascot races in England?
A: Ascot Racecourse is located in picturesque Berkshire countryside next to Windsor Great Park, a short 50-minute drive or train ride from London.

Q: What is the nearest station to Ascot Racecourse?
A: Ascot station is the closest station to Ascot Racecourse and is conveniently only a 7-minute walk away along a safe and open path. Alternatively, there's a taxi rank available outside the station if you prefer not to walk.

Q: How strict is Ascot dress code?
A: For women attending Royal Ascot in the Royal Enclosure, the dress code is "formal daywear" with specific rules. Most women choose dresses or skirts that are at or below the knee, as miniskirts are not permitted.

Q: Can you wear jeans at Ascot?
A: No. Jeans and trainers are not allowed.

Q: How long is the train journey from Ascot to London?
A: The train journey from Ascot (Berks) to London takes around 1 hour and 10 minutes, covering a distance of approximately 25 miles (40 km). Typically, there are 46 trains per day for this route, and if you book in advance, tickets start from £15.
Q: Can you take bags into Ascot?
A: You can bring bags to Ascot however they must be small and no larger than A4. Note that there will not be a cloakroom.
High Street SL5 7JX England