RHS Garden Wisley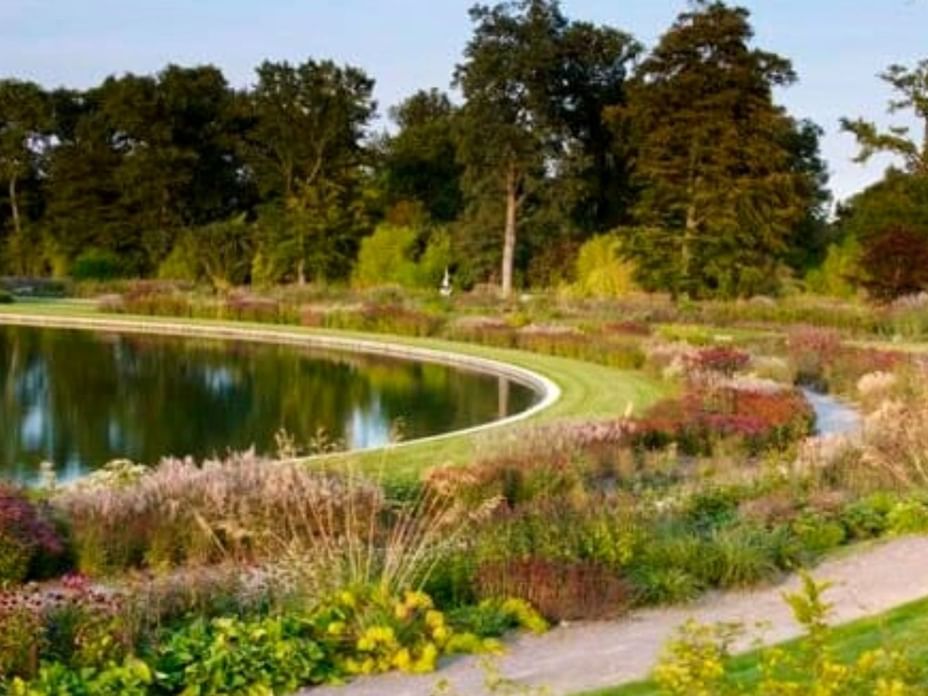 For those who have a love for flowers or simply enjoy being surrounded by the beauty of the natural world, RHS Garden Wisley in Surrey is a perfect destination.

Visit RHS Garden Wisley while staying at Gorse Hill

This enchanting garden offers a delightful experience throughout the changing seasons, allowing visitors to immerse themselves in the wonders of Wisley's ever-evolving landscape.

Come and explore the captivating beauty of this beautiful place and indulge in the joys of nature at its finest.
THE HISTORY OF RHS GARDEN WISLEY
For over two centuries the Royal Horticultural Society (RHS) has played a pivotal role in nurturing the nation's love for gardening.

Driven by its core vision of enriching lives through plants and making the UK a greener and more beautiful place, the RHS has established itself as a beacon of horticultural excellence.

One shining testament to their dedication is RHS Garden Wisley, located in Surrey, which stands as one of the most popular and cherished gardens in the country.

In 1903 Wisley was entrusted to the care of the RHS and since then it has flourished into a captivating destination spread across 240 acres.

The garden proudly showcases an impressive array of plant collections some of the largest found anywhere in the world.

In recent years RHS Garden Wisley has undergone exciting transformations including the introduction of a striking Welcome building, a spacious Garden Centre and the delightful Wisley Café.

On June 24, 2021, RHS Hilltop (The Home of Gardening Science) proudly opened its gates to the public within RHS Garden Wisley.

This hub serves as the United Kingdom's first dedicated centre for gardening science, enveloped by four acres of "living laboratories."

With its rich history, unwavering commitment to horticultural excellence, and recent additions that push the boundaries of gardening knowledge, RHS Garden Wisley stands as a cherished haven for all who appreciate plants.
WHERE IS RHS GARDEN WISLEY IN SURREY? HOW DO I GET THERE?
Location: RHS Garden Wisley is located in Woking, Surrey. The area surrounding Wisley is known for its beautiful surroundings such as Wisley Common which is a great place to walk.

Address: RHS Garden Wisley, Wisley, Woking, GU23 6QB

By Car: RHS Garden Wisley is located in Surrey between Cobham and Ripley off the main London to Portsmouth road (A3) south of Junction 10 of the M25.

It's well signposted so follow the brown tourist flower signs that lead you to the garden.

If you're travelling by car plug the RHS Garden Wisley postcode into your navigation (GU23 6QB).

Parking: The car park at RHS Garden Wisley is free.
RHS GARDEN WISLEY EVENTS
RHS Garden Wisley offers a wide range of events, courses, and workshops that cater to diverse interests throughout the year.

From captivating exhibits showcasing unique displays to engaging garden photography masterclasses, there is something to delight and inspire everyone.

To discover the exciting lineup of events and activities visitors are encouraged to visit the RHS Garden Wisley website.
FOOD AND DRINK AT RHS GARDEN WISLEY
At Wisley, visitors can indulge in a delightful culinary experience at the variety of onsite cafes and the scenic sky roof terrace.

Whether you're in need of a refreshing beverage, a scrumptious snack, or a satisfying meal, Wisley has you covered.
RHS GARDEN WISLEY MAP
Check out all the relevant information on Wisley including admission fees, events & much more HERE.
RHS GARDEN WISLEY FAQ'S
Q: How long do people spend at Wisley Gardens?
A: People typically spend at least half a day at Wisley Gardens.

Q: Can I take my dog to Wisley?
A: Visitors are kindly reminded that with the exception of assistance dogs, dogs are not permitted in the garden at any other times. For the comfort and safety of all visitors it's essential to keep dogs on a lead throughout their time in the garden. Dogs cannot enter any of the waterbodies or children's play areas on the premises.

Q: Is parking free at Wisley Gardens?
A: Parking is free at Wisley Gardens.

Visit RHS Garden Wisley while staying at Gorse Hill
Wisley Lane GU23 6QB England