Goldsworth Park Lake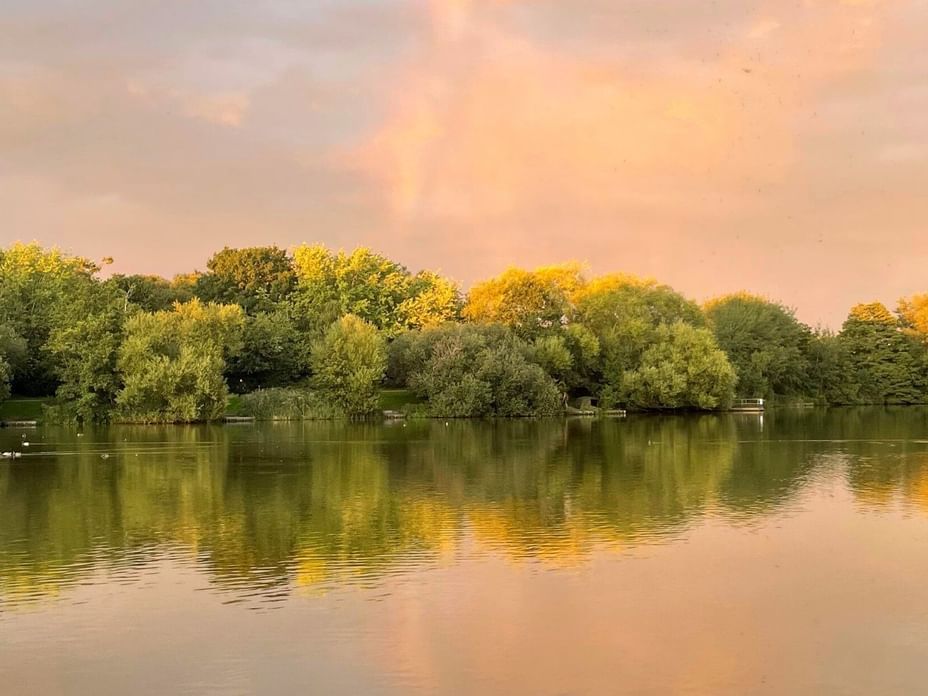 Goldsworth Park is a beautiful place with a scenic lake that is perfect for leisurely walks. It offers great spots for picnicking and fishing, allowing you to relax and enjoy the outdoors.
Visit Goldsworth Park Lake while staying at Gorse Hill
It's also a fantastic destination for young people to explore and have fun, with exciting play facilities like climbing boulders and a skate park available for their enjoyment.
THE HISTORY OF GOLDSWORTH PARK LAKE
Goldsworth Park Lake was built in the early 1970s as a drainage and balancing pool for the development of the Goldsworth Park housing estate.

Over time, the lake has become a habitat for various fish and wildlife, making it a great spot for anglers.

Today, visitors can enjoy the convenience of an onsite café and explore nearby shops.

The park offers additional attractions such as a playground, bike track, basketball court, climbing rocks, and ample opportunities for picnicking.
WHERE IS GOLDSWORTH PARK LAKE IN WOKING? HOW DO I GET THERE?
Location: Goldsworth Park Lake is located on Wishbone Way, just 10 minutes from Basingstoke Canal and 30 minutes from Woking town centre.

Address: Goldsworth Park Lake, Wishbone Way, Woking, Surrey, GU21 3RT

By Car: If you're travelling by car plug Goldsworth Park postcode into your navigation (GU21 3RT).

Parking: Goldsworth Park Lake can be accessed from various points, but for convenient access and nearby free parking, it's best to head towards Goldwater Lodge (Sat Nav GU21 3RT).
EVENTS AT GOLDSWORTH PARK LAKE
The local charity, Woking & Sam Bear Hospice, typically organises an annual fundraising event at Goldsworth Park Lake called the Dragon Boat Race.

Entry is free, and it promises an amazing family fun day with thrilling stalls and of course, the chance to watch the exciting boat racing competition!
FOOD AND DRINK AT GOLDSWORTH PARK LAKE
The brand-new Quackers Cafe is now open next to Goldsworth Park Lake offering fresh beverages, food, and homemade treats.

If you take a short stroll from the lake you'll find a few shops where you can buy food and drinks, including Waitrose and Costa.

Alternatively, feel free to bring your own picnic for a delightful outdoor dining experience.
GOLDWORTH PARK LAKE MAP
Check out all the relevant information on Goldsworth Park Lake including facilities & much more HERE.
GOLDSWORTH PARK LAKE FAQ'S
Q: Can you swim in Goldsworth Park lake?
A: No swimming is not permitted. The Community Safety Team of Woking Borough Council wants to remind everyone not to swim or dive in open water like canals, rivers, and lakes, including Goldsworth Park Lake. It's important to stay safe as around 58%* of accidental drownings happen in these types of places.

Q: How big is Goldsworth Park lake?
A: Goldsworth Park Lake covers an area of about 14 acres and has depths reaching up to 13 feet.

Q: How far around is Goldsworth Park lake?
A: The perimeter path around Goldsworth Park Lake is approximately 1.25 kilometers long, which is a little over ¾ of a mile.

Q: Can you fish in Goldsworth Park lake?
A: Fishing is allowed at Goldsworth Park Lake. You can purchase a day ticket or season ticket.
Wishbone Way GU21 3RT England