Ultimate Wedding Venue Checklist
Important Questions To Ask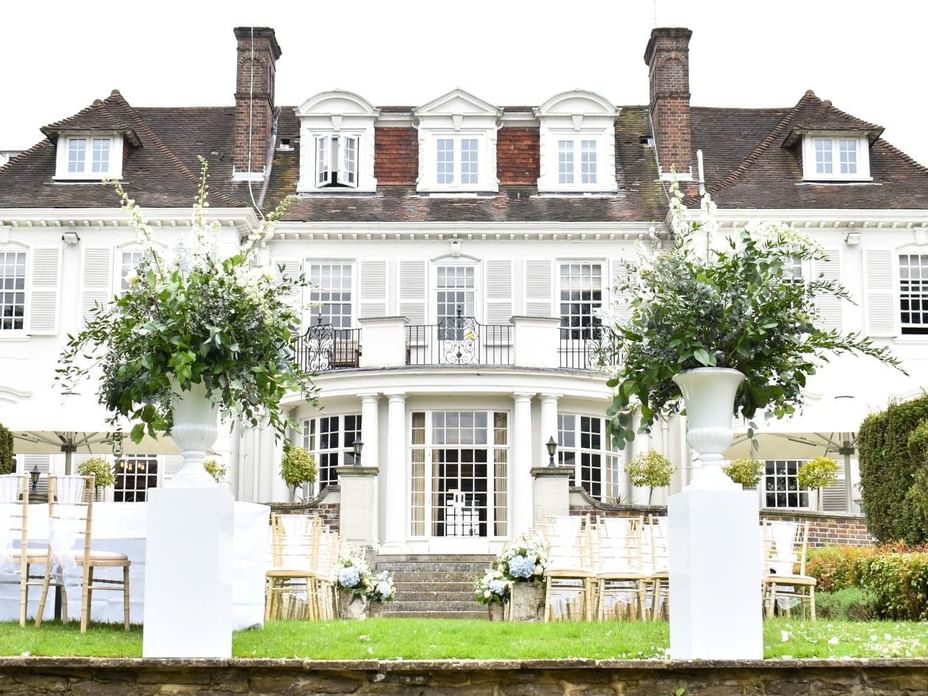 Planning a wedding is exciting and one of the most important choices you will make is finding the ideal venue.

The wedding venue sets the tone for your special day providing the backdrop for cherished memories to be made.

With countless options available, finding the ideal setting that aligns with your vision can feel overwhelming.

In this article we will provide a list of important questions to ask to ask your wedding venue before making a deposit.

Wedding Venue Questions Checklist

STANDARD QUESTIONS
What is the duration of the provisional hold for a date?
In peak season it's crucial for couples to secure their wedding date to prevent the possibility of someone else booking it.

Certain venues offer the option to hold a date without any cost until they receive other enquiries, while others may require a refundable or non-refundable deposit.

It's important to enquire about the payment requirement and the duration for which the venue will hold the date while considering different venue options
What time can our wedding ceremony take place?
Check if the venue has a preferred time for the wedding ceremony.
Additionally, enquire about the availability of the registrars on your desired day and time.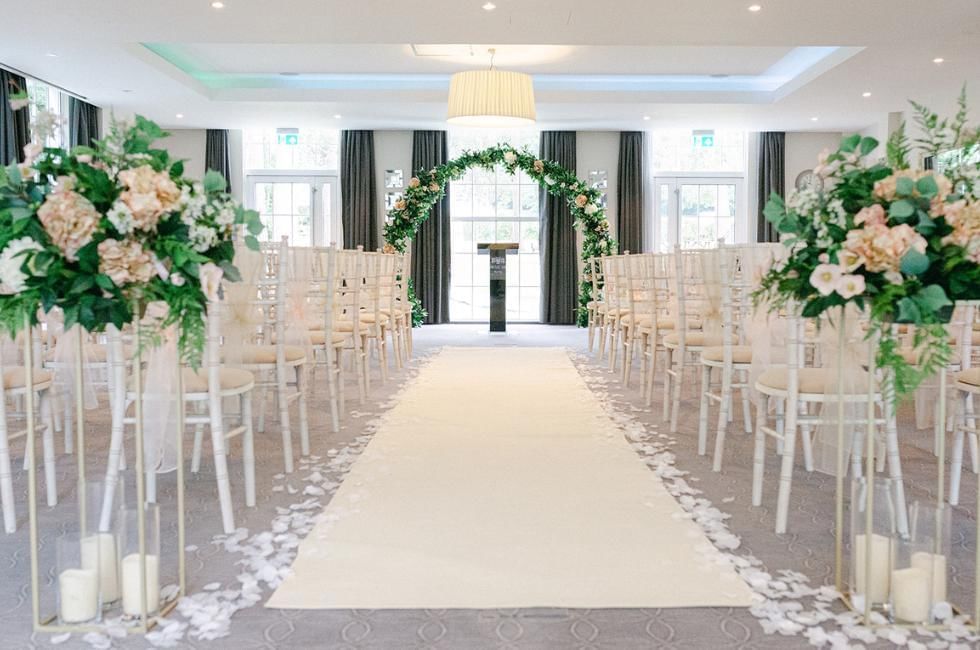 What is the maximum number of guests that can be accommodated during the day and evening?
Do you envision a large gathering or a more intimate affair?

Determining your desired guest count will help you narrow down your options.

It's crucial to strike the right balance as the venue's size can impact your budget and the overall experience of your guests.

Having a rough guest list in mind allows you to eliminate venues that are too small or too big.
Is the venue authorised to host civil ceremonies?
If you plan to have both your wedding ceremony and reception in the same place ensure that the venue you choose has a wedding license.

If it doesn't you can have a religious or civil ceremony at a different location and then hold your reception at the venue.

Alternatively, you can legally marry beforehand and have a ceremony led by a celebrant on the day of your reception.
Can the wedding venue be exclusively hired for our event?
If you're looking to privately hire a wedding venue for your special day, ensure that the venue offers 'exclusive use.'

Some wonderful venues in England that offer exclusive use include Gorse Hill in Surrey, Easthampstead Park in Berkshire, and Villiers Hotel in Buckinghamshire – be sure to check them out!
Who will be the main point of contact?
Even if you think you've asked all the important questions before your wedding day it's crucial to know who to reach out to if you have any additional questions.

Usually, it will be one of the wedding coordinators, the venue manager, or another senior staff member.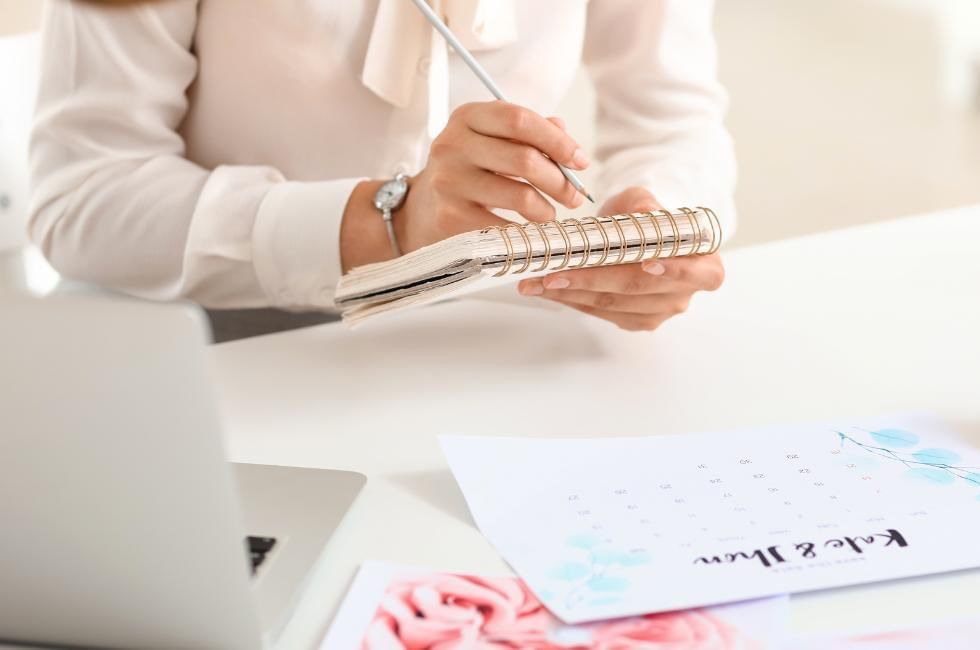 Am I required to use your suggested suppliers?
Many venues provide a list of 'recommended suppliers' whom they have a good working relationship with and trust.

This can be beneficial if you're unsure where to begin when searching for a wedding photographer or cake supplier.

Ask about whether the venue offers in-house catering or works with recommended suppliers.

You can also ask if it's possible to bring in an external caterer.

It's important to understand the procedure for doing so and to determine any associated costs.
Do you have on-site accommodation?
When it comes to selecting your wedding venue consider it's location.

If your guests are not local it's desirable to choose a venue that is easily accessible and has accommodation on-site.

Gorse Hill offers fantastic hotel rooms which can be booked in conjunction with your wedding.

Some venues may offer discounted room rates or include bedrooms as part of the wedding package.

It's advisable to enquire about the available rooms and their prices.

If the venue doesn't provide accommodation find out if there are hotels nearby or check if there is a reliable taxi service in the area.
Is there sufficient parking space for all our guests?
If many of your guests will be driving to your venue it's important to check the parking arrangements.

Find out if the venue has designated parking spaces.

If not, enquire about nearby car parks or available roadside parking for your guests, and whether any charges apply.

Additionally, it's useful to know if guests are allowed to leave their cars overnight.

This gives them more flexibility in deciding how late they stay or if they need to plan for transportation in advance.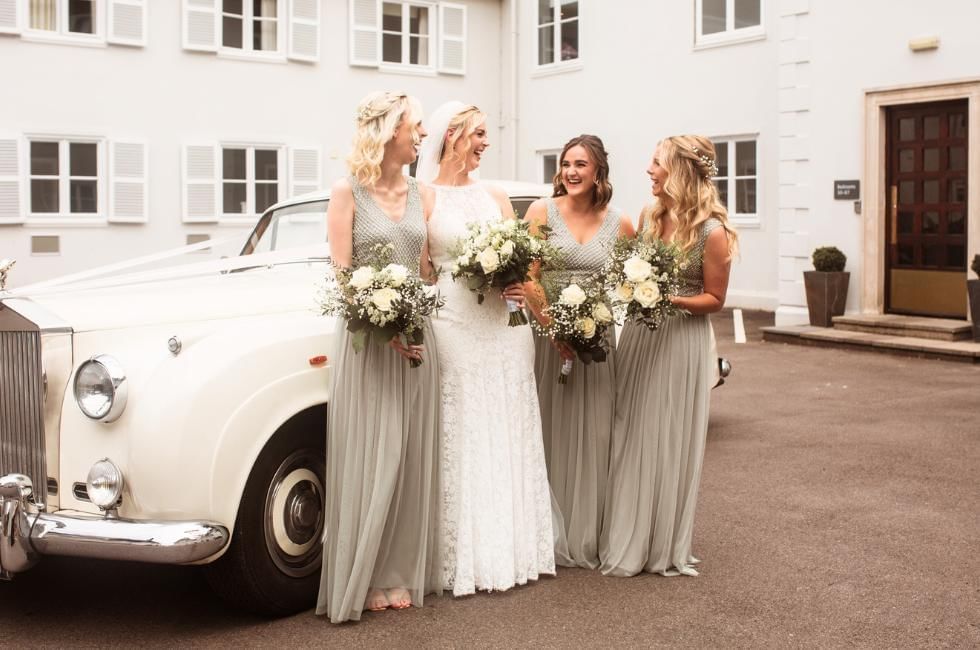 What time can we access the venue?
Whether you decide to handle the wedding decorations on your own or hire professionals, it's essential to be aware of the timeframe for accessing the venue and the allocated time for setting up.

It's also worth knowing deadline for removing your decorations the following day.
What happens if people come early?
If some guests arrive before the designated time it's important to understand if there are areas where they can wait comfortably.

Knowing these details in advance will help you inform your guests about where they can wait.

CEREMONY
Do you have separate areas for the couple to get ready in the morning?
It's important to ask if the venue has specific areas for the couple to get ready.

Find out the timing and availability of these spaces to ensure you can use them effectively.
What is the plan for transitioning from the ceremony to the reception room?
Understanding the plan for transitioning from the ceremony to the reception room is crucial for a seamless flow of events.

Ask about the logistics and arrangements in place to smoothly move guests from the ceremony location to the reception area.

Having a clear plan in place ensures a efficient transition for everyone involved.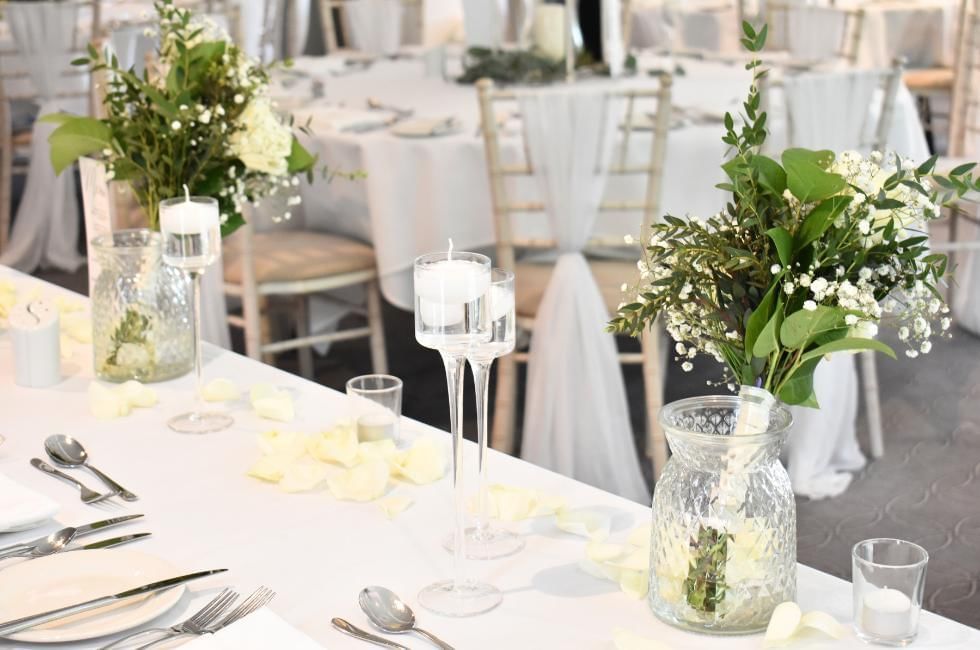 How flexible are you with the schedule and timings of the day?
Flexibility with the schedule and timings of the wedding day is an important aspect to consider.

Find out about the venue's flexibility in accommodating specific timelines or making adjustments to the schedule.

This information is particularly relevant if you have certain preferences or if there are any constraints that may require flexibility in the timing of various events throughout the day.
Is it possible to have the wedding ceremony outdoors?
If you have a preference for an outdoor wedding ceremony it's essential to ask the venue if such an option is available.

Explore their outdoor facilities and find out if there are any backup plans in case of inclement weather.
Are there any restrictions on the type of decorations we can use?
Knowing if there are any restrictions on the type of decorations that can be used is important for setting the desired ambiance and style for your wedding.

Understanding the guidelines or limitations regarding decorations such as candles, flowers, signage, or hanging decorations helps ensure that your vision for the wedding décor aligns with the venue's policies.
Are fireworks and confetti allowed at the venue?
Make sure to check with the venue if they allow wedding fireworks or confetti as not all venues permit them.

Some venues may be fine with petal or biodegradable confetti as an alternative.

WEDDING BREAKFAST
Do you provide complimentary menu tasting?
It's important to check if the venue offers a free menu tasting so that you can sample the food options before finalising your menu choices.

This allows you to ensure that the flavours and quality of the food meet your expectations and preferences.

Knowing if a menu tasting is included in the catering cost helps you make informed decisions and ensures a satisfying dining experience on your wedding day.
What menu options are available?
Find out about the different menu options provided by the venue and whether they cater to dietary requirements.

It's important to have a variety of menu choices to accommodate the preferences and needs of your guests.

Take the time to check if anyone has dietary requirements or preferences such as being vegetarian, vegan, or gluten-free.

It's essential to accommodate these needs to make sure everyone can enjoy the feast.
Does the venue have its own catering team?
Check if the venue has it's own dedicated catering team.

Having an in-house catering team can be advantageous as they are familiar with the venue's facilities and have experience in delivering high-quality food and service.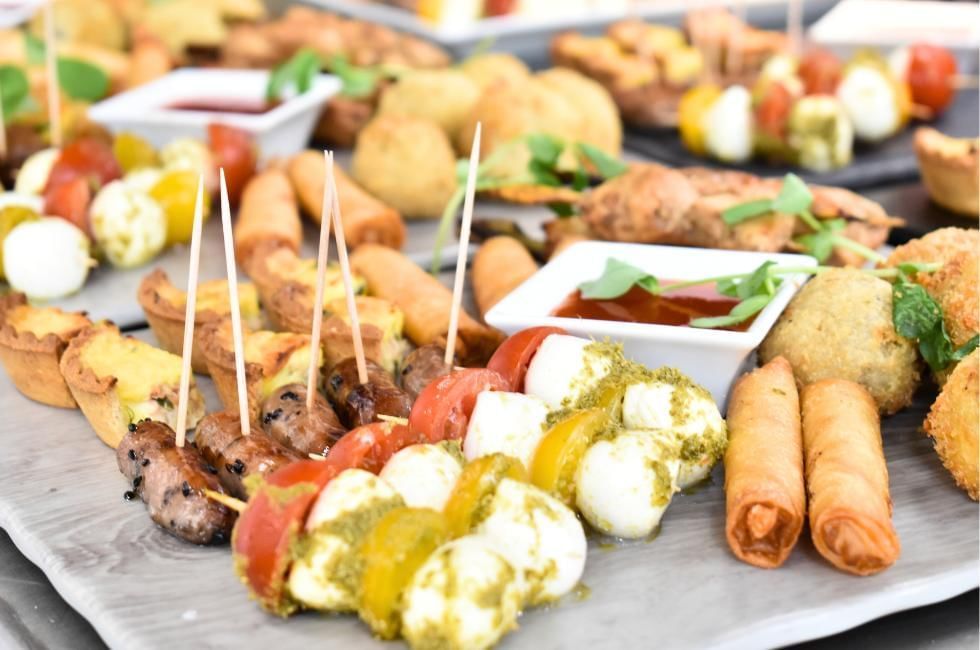 Are crockery and linen included in the price?
Confirm whether the venue includes crockery and linen as part of the overall price.

Having crockery and linen provided by the venue eliminates the need for additional rentals or purchases.

It helps you plan and budget accordingly for other aspects of your wedding without worrying about these essentials.
What size tables are available?
Understanding the dimensions and capacity of the tables helps you plan your seating arrangements effectively.

It ensures that the tables are spacious enough to comfortably accommodate your guests and create a pleasant dining environment.
Is there a fee for cake cutting?
Check if the venue charges a fee for cutting the wedding cake and if they provide the necessary utensils.

Knowing about any potential cake-cutting fees in advance helps you include them in your budget planning.
Can we bring our own alcohol?
Find out if the venue allows you to bring your own alcohol for the event and if there is any corkage fee associated with this.

EVENING RECEPTION
What options do you have for evening food?
It's important to understand the available choices for evening food provided by the venue.

Whether it's a buffet, BBQ or a specific menu knowing the evening food options helps you create a delightful culinary experience that complements the atmosphere of your reception.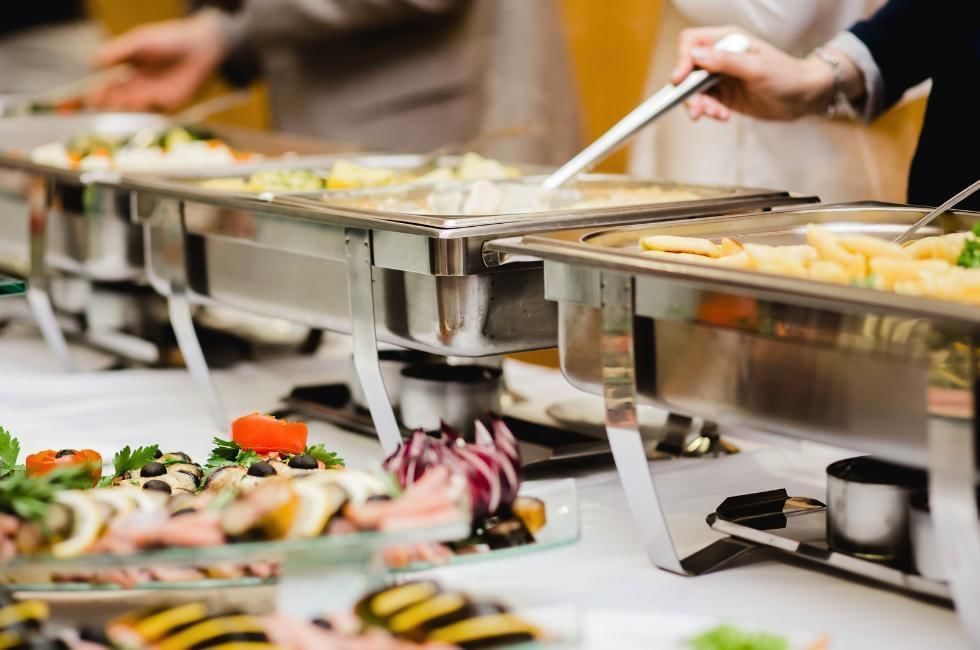 Can you accommodate a live band or DJ?
Check if the venue can accommodate a live band or DJ for your evening entertainment.

Clarify the designated time for the setup to ensure a smooth transition from the daytime festivities to the evening entertainment.
What are your bar prices?
Enquire about the pricing at the venue's bar and if they accept payment methods other than cash.

Understanding the bar prices allows you to plan and budget for the beverage expenses at your wedding reception.

If the venue only accepts cash, it's important to inform your guests in advance so that they can come prepared.
What time does our evening reception need to finish?
Knowing the designated end time for your evening reception is essential for planning the timeline of your event.

This information helps you manage the flow of your reception and make necessary arrangements for transportation and guest departures.

FACILITIES
Can people with disabilities easily access your venue?
It's important to ensure that everyone can attend your wedding without any difficulties.

Are there ramps and accessible toilets for guests with disabilities?

Additionally, elderly guests might prefer a lift or an entrance without steps for their comfort.
Can we find a secure location at the venue to store our wedding gifts?
It's common for couples to receive numerous valuable gifts on their wedding day, so it's important to ensure that the venue has a designated and secure area where you can safely store them.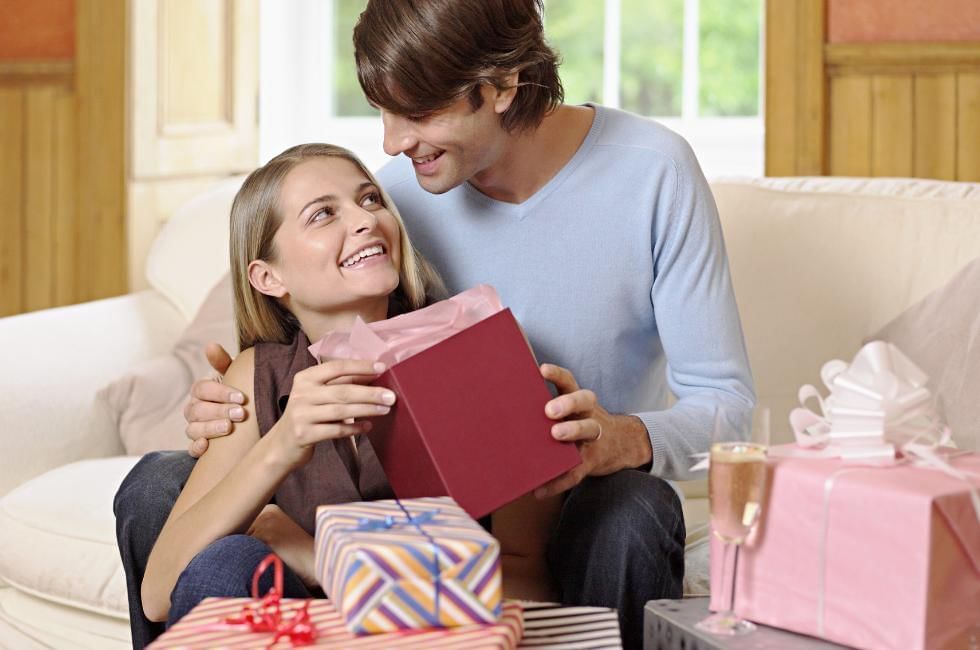 How much do we need to pay as a deposit initially and when is the final payment due?
You might think that the venue you desire is too expensive for your budget but by paying just a deposit at first and making the final payment later it may become more feasible for you.

Having a confirmed date for the final payment allows you to create a financial timeline and gives you time to save up for the wedding expenses.
Are the prices we were given inclusive of VAT?
It's important to clarify whether the quoted prices already include Value Added Tax (VAT) or if it will be added separately.

VAT can sometimes surprise you so make sure you have a clear understanding of the total cost.
Are there any additional costs that we need to be aware about?
You don't want to be caught off-guard by unexpected costs for your wedding.

Discussing the topic of post-wedding clean-up is crucial.
What is the cancellation policy?
If you decide to cancel your booking well in advance, most venues can refund your full deposit.

It's important to understand the specific cancellation policy of the venue as may be a certain date after which you might not be able to get your deposit back.
Are there any restrictions imposed by the venue?
Some venues may have an age restrictions allowing only guests over 18 years old

Similarly, historic wedding venues may have specific restrictions in place to protect furniture, artwork, or displays.

It's important to check if there are any other factors that might affect your guest list.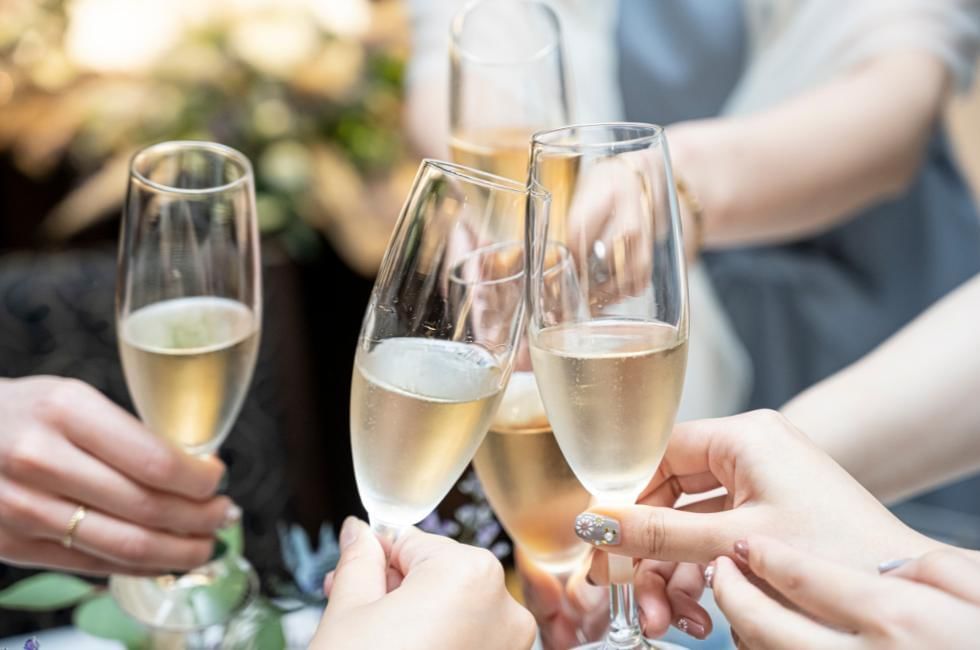 Do you have public liability insurance?
It is expected that every wedding venue has some form of public liability insurance.

They should have no hesitation in providing a document as proof of this, as you wouldn't want to be held responsible if a guest gets injured during the event.
-------------------------------------------------------------------------------------
We hope that you found this wedding venue checklist helpful.

It is recommended to compile a list of questions and mark them off as the information is obtained and each question is answered.

This approach leads to a wedding day without stress, allowing you to relax and enjoy the celebrations, knowing that you have taken care of all the important details.

If you've enjoyed the read feel free to explore our other wedding related articles on our Blog.

At Gorse Hill our dedicated wedding planners are always on hand to help you organise and deliver your perfect celebration.

Find out more about our fantastic Surrey Wedding Venue today.
-------------------------------------------------------------------------------------
Frequently Asked Questions Relating To Wedding Venue Checklist
Q: What should be included in a wedding checklist?
A: When creating a wedding checklist there are many aspects to consider. Start by determining your budget, as it sets the foundation for the entire planning process. Next, make a guest list to ensure your wedding venue can accommodate. It's essential to take your time to research and explore all available options. Wedding planners can provide amazing assistance in organising and coordinating your special day, making the entire process smoother and more enjoyable.

Q: Can you plan a wedding in 10 months?
Having more time to plan a wedding allows for better organisation and coordination of all the elements involved. However, it is important to note that contrary to what most sources may suggest it is indeed possible to plan a wedding within a timeframe of 10 months or even less. With the assistance of experienced wedding planners this process becomes even more manageable and efficient.

Q: Who pays for what traditionally at a wedding?
A: Traditionally, there are different ways people can decide who pays for what at a wedding. Some common options include the couple paying for everything or the bride's family paying for half and the groom's family paying for the other half. It's important to choose the arrangement that works best for you even if it's a different combination from the ones mentioned. What matters most is finding the right approach that suits your specific situation and preferences.