Windsor Castle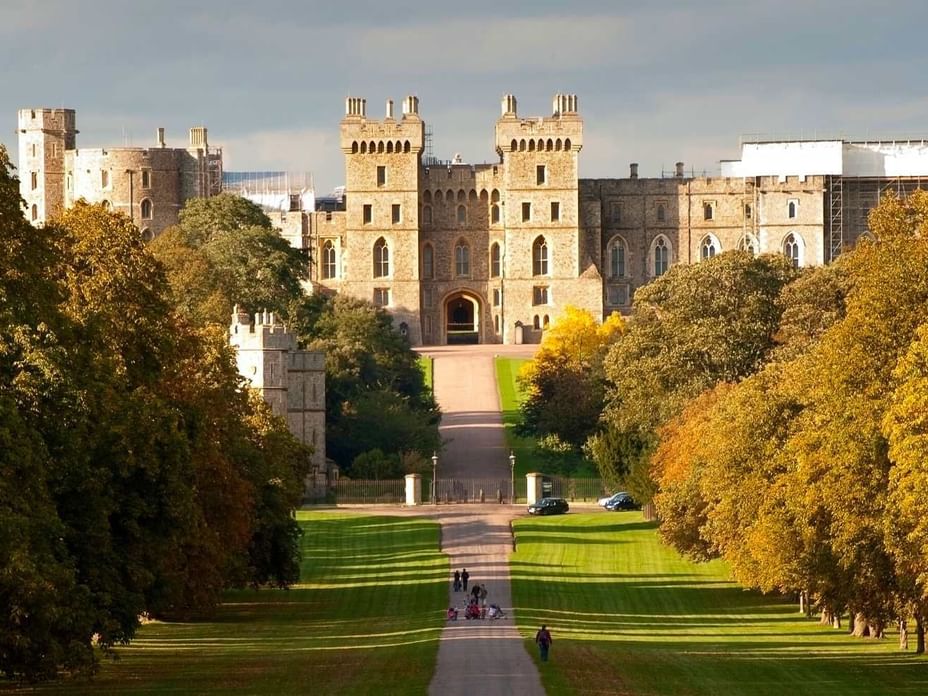 If you have a passion for history, don't miss the chance to visit Windsor Castle if you're in the Berkshire area. As the oldest and largest occupied castle globally, it offers a remarkable experience for visitors all year round.

Visit Windsor Castle while staying at Gorse Hill

Established by William the Conqueror in the 11th century, Windsor Castle has been the residence of 39 monarchs throughout its illustrious history. Explore its grandeur and immerse yourself in the rich heritage that spans centuries.
THE HISTORY OF WINDSOR CASTLE
Windsor Castle is situated in the charming town of Windsor in Berkshire, England.

It's an extraordinary and historically significant royal residence boasting an impressive heritage spanning over 900 years, making it the oldest and largest occupied castle on a global scale.

The castle comprises a sprawling complex of buildings including the magnificent State Apartments, the revered St. George's Chapel, and picturesque gardens.

Presently, it also serves as the final resting place of Queen Elizabeth II.
WHERE IS WINDSOR CASTLE IN BERKSHIRE? HOW DO I GET THERE?
Location: Windsor Castle is located in Windsor, Royal Berkshire.

Address: Windsor Castle, Windsor SL4 1NJ

By Car: If you're travelling by car plug the Windsor Castle postcode into your navigation (SL4 1NJ).

Parking: There is no parking at Windsor Castle. It's advisable to utilise one of the off-street car parks located in Windsor town centre, which are just a short walk away.

Allow yourself plenty of time to get to Windsor Castle as the area can get very busy.
EVENTS AT WINDSOR CASTLE
Throughout the year Windsor Castle offers a wide range of events to cater to diverse interests.

From exclusive evening tours that provide a unique glimpse into the castle's history to engaging children's craft days filled with creativity and fun, there is always something exciting happening at Windsor Castle.
WINDSOR CASTLE MAP
Check out all the relevant information on Windsor Castle including opening times, events & much more HERE.
WINDSOR CASTLE FAQ'S
Q: Is Windsor Castle worth seeing?
A: You should definitely visit Windsor Castle. It has stunning State Apartments with lavish decorations, beautiful castle grounds, and holds the title of the longest-occupied palace in Europe. You will also be able to see the final resting place of Queen Elizabeth II in St. George's Chapel.

Q: How long does it take to visit Windsor Castle?
A: Visitors are advised to allocate sufficient time to fully explore and enjoy Windsor Castle. It is recommended to plan for approximately 1½ to 2 hours to make the most of your visit.

Q: How long is the mile walk at Windsor Castle?
A: From the State Entrance of Windsor Castle, you can spot the 'Long Walk,' a 2.64-mile pathway adorned with trees.

Q: Is there a dress code for Windsor Castle?
A: No there isn't a dress code for Windsor Castle.

Q: Can I park at Windsor Castle?
A: Visitors driving to Windsor Castle should note that there is no on-site parking available. It's advisable to utilise one of the off-street car parks located in Windsor town centre, which are just a short walk away.

Q: Can you go to Windsor Castle and see the Queen?
A: At Windsor Castle you can visit the special exhibit showcasing Queen Elizabeth II's life and reign. You can also explore her mausoleum at St. George's Chapel.

Visit Windsor Castle while staying at Gorse Hill